WE USE THESE PRODUCTS
to run our own company — VPchat, an active online community. These products are scalable to millions of members. We keep our own system streamlined and secure, so you can be sure yours will be too.
Customizable
Scalable
Secure
Mature
Automated
Halsoft, Inc.
We offer two stand-alone products in a fully managed ASP environment. Each product integrates with your web site, and your existing database information can be easily ported.
The Halsoft Online Subscription Service (HOSS) is a mature, cost-effective, highly automated ASP registration and e-commerce package. We'll customize a system to meet your specs so your engineers don't have to get bogged down. HOSS can handle free and paid accounts, recurring charges, and a shopping cart.
Completely automated, mature system
Integrates with your existing website
Complete security, monitoring, and reporting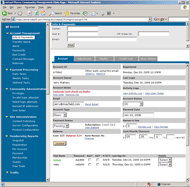 Stop sending your gaming customers to outside sites to run tournaments. Halsoft Leagues is a stand-alone product run in a fully managed ASP environment. It can easily integrate with your existing site and games. Your customers could be hosting and participating in tournaments on your site in a matter of days.
Automatic score reporting from your games
Players form ladders, and are ranked against their friends
Complete, flexible tournament system for up to 256 players per tournament
Standard USCF rating system for all players